I'm one of those people who love oatmeal any time (frankly, any "breakfast" food any time is good to me). But after deciding to swear off the instant packets (goodbye peaches 'n cream and strawberries 'n cream… [whimper]), I was having a tough time figuring out a good way to have oatmeal.
I mean, the typical way I'd had it before was cooked on the stovetop and then add brown sugar and butter. Yummy as hell, lovely, delicious. But that usually meant a LOT of brown sugar and a helluva lot of butter. No point trying to make a healthy breakfast only to turn it into something more fattening and sugary than cake in the end.
But for months, I kept wondering about "overnight oats" and how that was supposed to work. I was told it was a good way to help with breakfast prep, and others have mentioned it in passing. I saw some info from a company that supposedly makes overnight oats kits (edit: just looked it up, it's oatsovernight.com) and some bottles to keep 'em in. It made me wonder if people really drank the damned things, the way the containers were and all. That confused me, so I just avoided thinking about it for a while (couldn't get past the idea of what the consistency of the product would be while cold being drank of all things).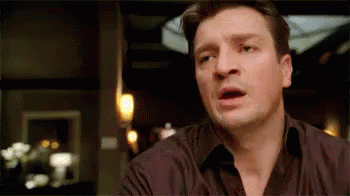 But I still wonder who thought up the idea of putting the ingredients together in a container, letting it set up overnight, and eating cold oats the next morning. So, last night, I looked up some recipes (wanted to get an idea as to what to put into it and how to do the layering thing the most) and made the simplest kind I could think of.
As much as I love oatmeal, I never look forward to getting the pans out and standing around the stove to stir things around and prevent them from sticking to the pot, then trying to re-heat what was left later (and usually throwing it out because it just didn't taste as good on day 2 or 3 and I could only manage a little before my taste buds rebelled).
What I'd considered doing with oatmeal before was to sweeten and flavor the bowl with jam or preserves. I tried that idea out with some additions.
I put the oatmeal in and then the almond milk (1 oats to 2 milk was the ratio I saw due to expansion of the oats as it absorbed some milk. Was pretty liquidy after everything, but I think it was meant to have chia seeds… which I had zero of and seem to be a big part in many of the recipes). Then, I got a big spoonful of apricot preserves and dumped it in. I'd rarely touched apricot preserves before (though found some recipes that requested it in the past, hence the reason I even had it), and never ate apricots dry or natural, so I wasn't even sure if I'd like it.
After that, for some bulk (and to help cover up the flavor of the apricots in case I hated it), I cut up a small banana. I saved the pecan pieces for the morning and put the whole thing in one of my salad containers. I was not about to get my special jars out for this because I had no idea how much the oats might expand or what cooking would do.
Well, after heating it up (not brave enough to try it cold yet, and it smelled great) and cooking away some of that excess almond milk, I stirred it really well and gave it a shot.
Boy, I'm SO glad I thought about the jam or preserves in oatmeal idea before, because that apricot-banana combination tasted great. Not overwhelming or too subtle, but just enough sweetness and flavor without adding a ton of extra stuff.
Now I want to get more preserves the next time I hit Thrive Market's page. They've got a "superfood preserves" blend that I remembered trying once before. Can only imagine how great it'd make oatmeal taste (and what flavors I could combine with it besides just banana).
I'm so glad I took the plunge, especially because oatmeal is generally not that expensive compared to other things I've enjoyed eating for breakfast. With this extreme financial diet I'm trying (had a few slip-ups I'll mention later), good healthy foods that are inexpensive will be a must. Thankfully I have plenty of nuts and other things I can add the next few weeks, just not chia seeds. The spice cabinet is full and ready to go… and I've got plenty of milk for a while to round out the oats and their creaminess.
Hmm… a bit too late to prep some for tomorrow, but I can get ideas and put them together for the next week or so. Wonder what it'll take for me to be courageous enough to try the oats cold in the future. Maybe it'll never happen, but that's where the research comes in. I'm sure there are some flavor combos that would work far better with cold oats. It'll just take some looking for now.
Definitely have to say this meal prep and meal were time savers, and quite filling. More than happy to continue with this little experiment.