I'm checking the weather report about tomorrow. My dogs had some "pup-kin pie," the filling that didn't fit in the pie shells that I poured into Pyrex bowls to cook separately (they were so happy). I'd planned to make baked potatoes for over a week and had some veggies I needed to use up, so I made my lazy loaded version and cut up a ham I'd bought a while back to bake in the oven with the rest.
And hell, I even have sliced turkey lunchmeat in the fridge if anyone gives me a hard time about not having a good turkey meal. Turkey and swiss on dark rye with spicy mustard? Mmm…
All in all, I just finished my Thanksgiving cooking. Some plum wine and the microwave will take care of the rest tomorrow.
I went for the ham and potatoes by default, but the last thing I wanted to do while tightening my budget belt is get a bunch of food for one overly-elaborate meal. Chopped baked potatoes and pumpkin pie are quite enough for me.
And if the weather's nice, I'm gonna be out there putting my freshly sharpened mower blades back on, move my yard markers out of the way, and get mowing. And finish touching up the side porch if the humidity's just right. I swear, that neighbor's kid never seems to realize paint may look dry, but it's not thoroughly dry if I can see a shoe impression on the wood.
(sigh)
Next time I'm getting caution tape and wrapping the freaking stairways so nobody uses 'em.
But that's my plan so far. I've also gotta figure out how to rearrange one of the rooms in my house (while looking up jobs online). I've got all this stuff I'm trying to organize but more things are getting added to my guest/art room. I've got fish tank decor and supplies out the wazoo vying for space with my art supplies and the little free library books I'm trying to keep separate. I may well have to move some furniture out into the shed and bring a bookshelf in, or I'll have to move other things around. At least I'm not hellbent on using that room for much of anything right now, certainly no guests, or I'd be a damned mess.
Though if I had surprise visitors tomorrow, I'd be freaking out… and especially with this COVID going on, not gonna let any family in this door. Sucks, but I'm sure most of 'em are "hoaxers" and I'm gonna barricade myself like it's a Shaun of the Dead situation. Booze and all.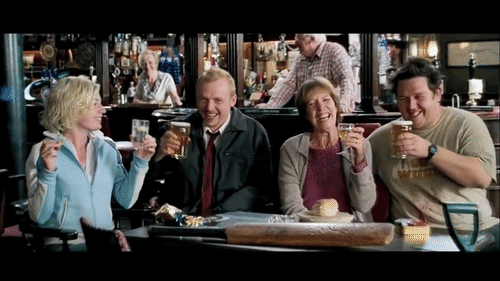 The amount of free mingling between kids down the street and all these cars in everyone's driveways is making me antsy enough, dammit.
I'm more curious how the store sales and crap are supposed to go. I'm cringing at the idea of Black Friday to come. Hopefully people are sensible and realize crowding together in the hope of getting a 100″ TV for a crazy discount isn't worth dying for.
Oh, wait. How many years do folks end up trampled even WITHOUT a pandemic?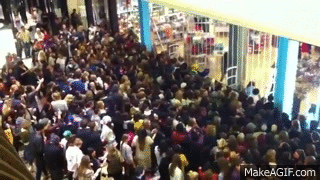 (sigh)
It's gonna be a Thursday around here, and I'm just fine with that. Not like there's any good Thanksgiving movies on or anything (and I'm avoiding Hallmark Channel like the plague COVID anyway. I don't even start decorating for Christmas until December 1st, dammit, and I damn sure won't watch Christmas movies before then on principle).
Okay, the crazy dog-bird-fish lady has spoken.
Be well, all. Be safe. Enjoy your day and who you have around. Hopefully you guys aren't going to have too much craziness with gatherings. At least down here Houston-way I think most folks will be hanging out outside most of the day, since the weather's not that "windy icky wet" for once.
Hope it stays that way–don't need a couple dozen people in close quarters in everyone's house (and hopefully not the bathrooms at the same time).