There's always that weakness that you don't know is a weakness until you're sitting there going, "oh, hell–did I REALLY just do that AGAIN?"
In my case, that's pizza. There are other foods that I ingest that don't know the meaning of the word "moderation", but pizza is the big one.
I think it's all the carbs, partially, the flavors and whatnot. I would get those frozen pizzas and pop 'em in… and then eat nothing but those all day long until I felt sick. Why? I don't know.
Or, I'd decide to go out and pick up pizzas, and come up with very inventive flavors, and just gorge myself on pizza and bread and all those extras…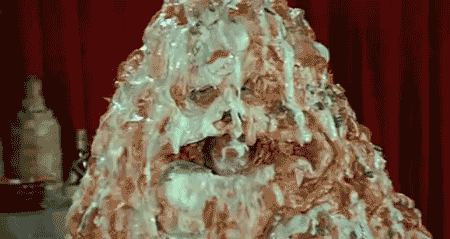 Thank you, Spaceballs, for Pizza the Hutt. Maybe I should watch this part more often so I get turned off of pizza for good. Hmm…
Yeah, there's a reason my stomach's been out of whack the past few years. I am lactose intolerant, but can have some cheese as long as it's cooked. If I were to drink a glass of cold milk, I'd be hurting. But a little grilled cheese sandwich doesn't bother me, as long as I have something like veggie soup with it.
But oh man–pizza. I gotta tell my taste buds to go to hell and stop asking for it. I need to divorce pizza and never let it in. It gets one foot in the door and I'm a sorry mess in my stomach. I went and got a few things last night and without thinking, without remembering that I can't do the pizza thing anymore, a couple of those small meat pizzas made it into my basket.
And I ate them both this morning.
And I'm feeling sick because of it.
Why is it that my mind just completely blanks? My body doesn't understand moderation with pizza, or some other foods, but pizza's the worst offender. I keep thinking that maybe if I can cut out pizza and not feel bad, or not want it anymore, I can do that with other crazy foods that make me want to binge.
Seriously, why couldn't I just binge on salads without dressing? That would be filling and more healthful, I'd think?
But it's that trying to train my taste buds thing again.
For some reason, my taste buds want what they want, and they anticipate all the yummy cheese, meat, chopped veggies and bread and here we go.
Ugh, I hate this. Now, I do have where I can make my own homemade pizzas, and I typically don't binge those. Those last a while. I guess it's all the sugar and other crap that goes in major pizza makers' sauces or the stuff they use on the frozen ones. If I make it fresh at home, it's good.
But even when I have the supplies in the freezer (wheat thin crust doesn't take long to thaw) and the fridge and the pantry… I'll still go out and get some to eat. It makes no sense because if I had everything thawed out and ready to go, I could make that pizza and have it practically done in the same amount of time as it would take for me to place an order, get my keys, go down there to pick it up and come back. They don't do delivery in my neck of the woods.
Hell, I could probably learn to make my own pizza dough and be in really good shape. It would be fun… maybe.
It makes no sense. It's like there's a switch in me that says "wait, you're trying to trick me into healthier food, I'm not falling for it" and I'll ignore all the fixins (whether healthy or not) and go get one.
I can't do that to myself anymore. the only time I don't binge on pizza is when I get English muffins and make those little breakfast pizzas. I take my time and use the freshest sauce and stuff, bake 'em in the oven, and I'm good for a while. I don't get the need to just chow down on them all day.
Buying pizza is wasting a ton of money, and I can't do it to myself anymore. I just wish I didn't do stupid things like reflexively grab frozen pizza. I guess it's muscle memory in a way, like "you used to do this all the time." But it's a bad habit I want to get rid of, not continue.
It's the same reason I try so hard to avoid fast food. I used to eat a lot more per meal and out of habit, I'd order the same amount of stuff and end up throwing a lot away. It made no sense.
I'm trying for more self-awareness and looking up some tips to curb the behavior. But I'll be really happy if I can officially divorce frozen or chain-made pizza in favor of my own (on a rare occasion or with friends around). I'm determined that today is my last day of shitty pizza in this house. I've got a big old ham I can cut up, plenty of tomato sauce, cheese, mushrooms (I'll have to get some bell peppers again), and a can of pineapple if I wanna go Hawaiian with a twist.
I am anticipating the hateful responses regarding pineapple on pizza. But I tried it with the ham and liked it (and it didn't feel super greasy and heavy, either, which was good because we were on a hiking road trip and I didn't need to get weighted down).
Anyhoo…
I'm gonna drink a lot of tea and try to wake myself up a bit more. Sure it's almost evening, but I've had three days of crappy sleep because of a washer problem that's kept me up all night, searching for a new one online for hours, and trying to get through some lousy reading and plans. And I'm anticipating clearing all those crappy cheap carbs out of my system with lots of good strong hot tea. It's actually cheerful and cool outside today, but my stomach and headache kept me in.
Minimize the cheese, get leaner meats, and make it your own damned self. I need to never let another crap pizza come through this door. It's a crazy addiction that needs to just not be fed. Pizza, you're out of here!
…
And on a lighter note (which I needed to laugh at myself), here's some kids using Josh Groban (as himself… sort of) to order pizza: