I am sure some people are trying damned hard to find something positive about this whole quarantine thing, and the restrictions that are easing up. Every day is a source of tension in some form or another.
But I had to remember something for our kiddos out there, trying to do schoolwork at home and learning over video (when possible): there's no time for the STAAR test.
No time for that obscene, soul-sucking, anxiety-inducing, nausea-forming, time-wasting, parent-and-teacher-crazy-making test.
No time for kids to be pulled away from some project or interesting thing they've gotta work on so they can do some drill sheets with test-style questions or practice filling out the bubble sheets properly.
No teacher training days wasted on testing procedures… for the umpteenth time.
No days wasted waiting on the results of a test to determine if you go to the next grade or not (and frantic days trying to determine if junior needs to go to summer school or not).
Nope–just accountability with the teacher and the school. Maybe the district, too. The way it should be.
Of course, the numbers of "passing" and "failing" students are fiddled with, anyway, because of the state test's leverage. Even if high school students don't pass their end of course exams. To me, that would be more important than the state test score.
I wonder how things will go (but have very little info so far) regarding students passing into the next grade.
Maybe this will be a crucial part of what gets us rid of the damned standardized testing crap we all have to deal with every year. No teacher I've ever met has liked it. No students like it. No parents like it. Just textbook writers and test creators like it.
I just wonder what the districts are going to do–and the schools themselves–to determine students pass or fail rates. Is it going to be just their school work and final exams? It's been a while since I've talked to kiddos about what they're doing, so I don't have much info yet on my end. Definitely need to research.
At least it's one less thing on their already full plates–students, teachers, and parents alike.
Would be nice if standardized testing went away forever after this…mmm… That crap is why school is so boring most of the time.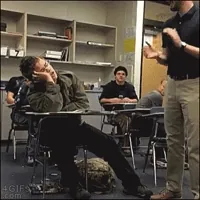 ***
Well, that's one positive thing I've found about the Coronavirus disruption. Anything positive you've seen come out? Floor's yours…