Music makes me feel. Whether I'm playing on a crappy day or a great day, or putting in a CD and just letting a fantastic album wash over me, well… music's always been there. It's not surprising to me that I would just go nuts wanting to learn some of my favorite tunes and figure how my fave artists learned their crafts.
Over the course of my life, these artists have come and gone depending on mood and familiarity, but I've gone back to them more times than I can count, looking for inspiration or just that one thing that makes me feel better.
And I'm talking individual artists, even if they're part of bands, because the bands list would just go too far. The composers list would take even longer, so none of those are on this list, either.
So, in the loosest possible order with only an hour to think about it (because that would take weeks to narrow down and solidify otherwise):
#10–Ella Fitzgerald
I have to say, I adore this woman. I'll try to sing along to her and that bit of bravado's made me want to maybe take voice lessons some day. Never sung in public (barely ever outside of my car, either), but I'd love to learn how if I had just a fraction of her talent.
I've loved her music to the point where hers is probably the only Christmas album I'll put on without grumbling or getting annoyed with it. I got into jazz in my late teens, and the selections on the Ken Burns Jazz: Ella Fitzgerald album surprised me. I think she's the lady I listen to most often and will try to sing to. Her version of "Night and Day" is just wonderful, and I can't help trying to sing along.
Playful and powerful in turns. I love her. And odd as it is, I think her duets with Louis Armstrong are some of the best duets ever done (dunno why, the incredible difference in their voices is just fun to listen to).
#9–Cat Stevens (Yusuf today)
I grew up listening to him probably more than anyone else. My dad had his albums backed up onto his reel-to-reel (and got cassette tapes to put on in the car during road trips all the time). I think it was the softness of his playing, the fun simplicity, like a child of nature given instruments and told to go freaking play and don't come back til dinnertime.
I was more than happy to find a giant Cat Stevens songbook for guitar and threw it in my online cart before I could change my mind. I just remember humming and tapping my foot to those tunes, and I wanted to have a carefree, musical existence where I could write songs or poetry. He's probably the first person whose songwriting I paid any attention to, and made me think more about it.
#8–Dolores O'Riordan
I cried the day she died. She'd been in and out of my life for many years through the radio speakers, one of those artists I would go back to as The Cranberries put out a new album. I was in 6th grade when I heard "Zombie" for the first time, and I was bowled over by the power in her voice, the raw energy and anger in the lyrics. And then to hear other songs with her softness and strength, the speed she could sing, too, just made me wonder about the art of songwriting and singing.
I just thought that voice was amazing, and when life was really crappy and I wanted to be angry and just let it out, listening to her sing "Zombie" was so damned cathartic.
#7–Dave Brubeck
He made me want to play piano. I have pretty much every Ken Burns' Jazz album there is, and his was the first I'd listen to on repeat. I just loved his playing on the piano, and I don't just mean the very famous and obvious "Take Five." He made me really consider what I knew about jazz (very little) and made me want to investigate more. I was classic rock and alternative all the way through til my late teens (with a sprinkling of R&B), and then Dave Brubeck made me want to hear more jazz and piano.
And made me want to learn piano for real.
#6–Tom Petty
Definitely one of my faves, even though it took forever for me to buy an album or two. He was always on the periphery, but when I let myself think about Tom Petty and his music, I just remembered feeling good listening to it. And the guitar–it's not insane or out of reach, or at least doesn't feel like it. He was a fantastic artist and guitar player, and I thought his voice was fun to listen to, just right for the music.
He's a good "bad day" musician when you're just trying to get through the day and enjoy a few things. Some days I could listen to his albums over and over again, and I was itching to learn how to play guitar because of him.
#5–Yoko Kanno
Someone who helped introduce me to music beyond the U.S. I swear, Japanese jazz was some of the best shit in the late 1990s, and with The Seatbelts, they created the Cowboy Bebop sound. I've heard other works she's been part of (largely as a composer), other anime films, but the four disk album with all the bits of Cowboy Bebop available is one of the first I listened to and actually wore out, then had to buy again.
I'm itching to find any sheet music attached to her (and I'll have to save up). She really opened my eyes beyond American music, and made me want to listen to far more things I'd never tried. And she also made me dream about making my own music, or writing films scores, rather like #4 on this list–
#4–Vangelis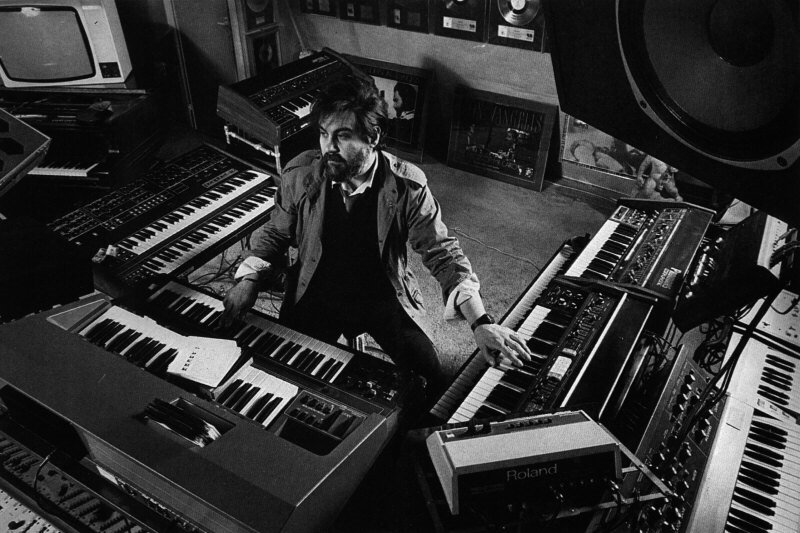 Okay, this might be a slight cheat because he's technically a composer, but considering he plays every instrument (electronically, of course), it fits to call him a playing artist.
Vangelis was the first one who made me want to create music. My dad got an album of themes he'd made for different films (I still have it), and I wondered how the hell one guy who couldn't even read music could make so much beautiful music for films. I wanted to learn how to be a composer badly because of him, and itched to learn as much about music as I could.
I'm still learning, and wanting to hear more and do more led me to signing up for music masterclasses, and getting instruments to help me along. The electronic music aspect will have to wait, but I'm eager to learn what I can when I can, thanks to the awesome, wildly-different themes he'd come up with in his career.
#3–Chester Bennington
Linkin Park blew me away when I first heard them, and then they were everywhere and I guess we got complacent. What hit me most was his rawness, his ability to lay himself bare and show what he was going through for better or worse. I was very upset when he died, and probably listened to every album with his stuff on it all that week.
It's his range, his heart, and his songwriting ability. You can feel him, and I loved his voice so much. It let me feel when times were rough, and I wanted to feel when in the midst of my own depression. Listening to him reminded me that I wanted to make poetry and music someday, and why not today, dammit, because tomorrow may never come.
#2–Nancy Wilson
I was 14 when I first saw Heart on Behind the Music (back when VH1 was good). I knew there were women in the band, two sisters (obviously, Ann's singing was unmistakable), but it never occurred to me that women could play guitar as bad-ass as the guys could (if not more so). Well, I saw her just whaling on that acoustic during "Crazy on You" and my jaw hit the floor. I couldn't believe a woman could play like that.
And that prompted me to ask dad for a guitar for my birthday. She's the first reason I wanted to pick up a guitar and learn how to play, and be a songwriter. I was so moved seeing her kick ass on that lovely instrument, and keep doing it over the years.
Sadly, I didn't keep it up because I didn't have anything but exercise books to play that first year and change, then my car broke down and I had to pawn the guitar to pay for repairs. But when I got really thinking about it, and my earlier dreams of playing, Nancy Wilson and my #1 were the main reasons I bought my acoustic electric.
#1–David Gilmour
He's the reason I bought my first Stratocaster, because when I was looking for an electric as my second guitar, someone told me "find the guitarist you'd most love to play like and find out what they play, because then you'll stick with it."
Well, that would be David Gilmour. And then I got other guitars to experiment with and never looked back.
He's the reason I've wanted to pick up electric guitar and learn how to do all the awesome stuff he and all my favorite rock and rollers could do. I am just amazed by what he can do with a Stratocaster and any other instrument he touches. Watching him do slide guitar for "One of These Days" made me want to learn that. Watching him with his acoustic on "Wish You Were Here" made me want to learn that. And the more I listen to his part (and yes, every Pink Floyd album ever on repeat), the more I just love music and want to play, play, play.
David Gilmour is fantastic, and I can't get over his playing after all these years. He hasn't lost his touch, and just listening to that guitar makes me have a great day.