I've been eating badly for a long time, and every time I get a little ahead in the "eating better" plan, I backslide about ten steps. An unpredictable schedule and general lethargy doesn't help.
And now, thanks to too damn many fast food meals, I'm at the point where only coffee and tea taste good to me and I get ill in my stomach if I eat out. I did okay some of last week, when I had to work out of the office and pack my lunch for a few days. My stomach didn't hate me most of the day (unless I caved into cravings and went out for fast food in the afternoon). But that got boring after a bit.
I need to make better eating a priority, and make sure my stomach isn't totally out of whack from all this bad behavior.
So, I'm looking up info on dietitians. I tried looking some up some time ago, but realized that I don't really think there are many–if any–around me. I've heard of a few nutritionists instead, but I'm more wary about going that way.
Dietitians have medical credentials, and can add the label of nutritionist if they want. Not the same the other way around, though; nutritionists are more like coaches, some of whom are also gonna sell product.
I have a feeling I'm gonna need help on the diagnostic end and some real, in-your-face honesty about what I've been doing to myself and some actual treatment if necessary, and some tried and true measures to help me along with this eating healthy (and needing to re-learn how to cook) issue.
I'm not out for a quick fix and some woo thrown my way. If that was the case, I'd be watching Oprah, Dr. Oz, or going online through the GOOP catalog looking for crap that I'd discard before a month was out and feel more like an idiot.
I need to get energy back the right way, and get out of this palate fatigue and enjoy using my taste buds for things beyond increasingly-disgusting fast food. I need some real, scientifically proven things to help me out, and maybe tests to figure if something will help more than another thing.
If they tell me to cut out the dairy completely, that'll be tricky. If they say no more coffee or tea, I'm drawing the line. That's one of the few things I like (that I have done pretty well taking in moderation) that still appeals to me and hasn't made me sick.
It feels stupid to have to go to some doctor and figure out how and what to eat. On the other hand, I've watched too many episodes of Adam Ruins Everything (the Nutrition and Weight Loss episodes to be more precise) to trust a dumbed-down government chart that tells you so damn much and so little at the same time.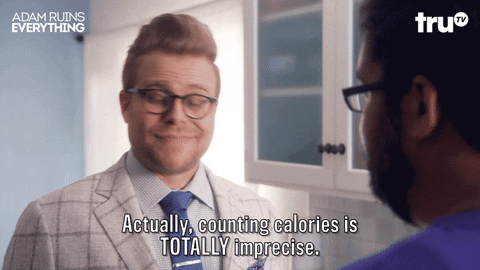 So, it's off to find a dietitian near me that my insurance will cover and hopefully I can build a rapport and stick with it all. The closest ones I've seen so far (though I'm finding more helpful sites out there) are in clinics that do "medical weight loss" or "weight loss and aesthetics" (cue the plastic surgeons and liposuction practitioners on the websites).
Yeah, though dropping 80-ish pounds in a day sounds super cool (uh-huh, yeah right), I have a feeling that clinic is geared mostly toward that type of business and the dietary aspect is just to make sure you don't screw up their work right away (or the typical post-surgery restrictive speeches that come on postcards).
Nope–need to find someone not standing in front of a wall of special brand vitamin supplements, too.
No more woo to try avoiding. No more fast food for that quick fix. No more ignorance.
Time to find someone to help…and when I get a day off, meet at last.
Oh, and gotta love John Oliver tackling this crap, too: