I find it funny that nearly a year ago (minus about three weeks) I was writing about how interested I'd be in an electric guitar, despite knowing nothing about my Ibanez acoustic-electric that I'd just got a couple months before. I figured (at the time) I'd better save up and invest in some lessons quick so I could enjoy what I was doing.
Well, after getting 1 acoustic guitar, 9 electric guitars, 2 electric basses, a violin, a cello, a ukulele, a mandolin, a piano, and a drum kit… I suppose I'm done collecting at last and ready to play.
I was supposed to start Sunday, but somehow my teacher didn't get the updated roster and keep it open for me…but I was able to make it there straight from work today (very short day) and that made up for it.
It helped in the long run in another way–I was able to go around the corner and sign up for piano lessons starting next Sunday.
I have to make it worth my gas, that's the big thing. Two classes after that long drive? That'll make up for it…and on Sunday, the worst day of my week (or has been) for so damned long.
Time for a change.
So, I went in for my first lesson and have to say, I can feel the calluses growing on my fingers after that first hour. I wasn't sure what to expect, but I gotta say, it was worth it to start. I basically know the basic fingerings and chords to a short song called Daydreamer… or at least I did earlier.
Practice will remind me where finger placement is. And a big thing I have to watch is my fingernails.
My thumbnail was a bit long and the edge kept catching the string, making a loud sharp twang that was out of place when I'd pick at the notes. We were working with just fingers.
I was amazed that my hand placement wasn't that bad, especially since the guitar body is a dreadnought style (pretty big, but not jumbo–I just have short arms). He indicated with more calluses and practice that my wrist and finger placement would improve, so I'm not super worried about that.
But today got me thinking of my guitar aerobics guide, and making sure I work on that. Yup–planning on digging it out and making a study schedule around it. And piano aerobics, while I'm at it.
Might as well, right?
Beyond work, music practice is top priority (well, after taking care of the dogs, naturally). Rain, shine…this is the big one for me, and all other things need to be planned around whatever times I choose. Having a steady plan will be damned hard, because my schedule changes constantly, but I'll still make sure to reserve amounts of time for each instrument.
But one thing that really bothers me about my new beginnings is the ability to get into tune and stay there. Kinda hard to know if what I'm playing sounds right if it's not in tune, right?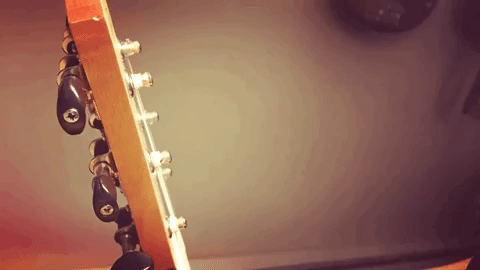 Anyway, that's my plan for this evening til I have to take the dogs out again…tune the guitars on the wall and in the storage case. Tune them, hook 'em up to an amp, and then try out that song I learned today (I might have forgotten a step or two in the progression, but hopefully it'll come back).
Yeah, that'll take a while, but some of my guitars came straight out of the box of the shippers and never got a chance to be properly tuned by somebody who knew what they were doing. Time for me to learn and do it right.
Or, considering how late it is, maybe half the guitars. I can tune the other half and play that song tomorrow.
Hmm… this is gonna be damned interesting. but also needed. I paid off some debts and now I'm gonna pay for something I've wanted to do for so long now.
Time to hang the last guitars on the wall and really develop that tuned ear. Here I come, YouTube!