I forgot the second rule of Exercise Club.
The first rule is you don't talk about Exercise Club…. or rather you stop talking and freaking do actual exercise.
The second rule is you don't do it out of the blue on a new machine.
I haven't done anything truly cardio that counts as actual exercise (and not as a byproduct of something else) in over a year.
Fifteen minutes on the elliptical trainer kicked my ass.
And that wasn't fifteen nonstop. But rather a start, change of settings, start again, changed settings, started again.
I figured even at a lighter setting, I'd do okay for 25 minutes to start, low intensity. I'd just be getting used to the rhythm of a new machine, get used to the settings and how to change them.
Well, my NordicTrack elliptical trainer has a ton of features, and I couldn't wait to get started (once I remembered my WiFi password–something I never use at home). So I gave it a shot just for a short go.
I'm impressed by what I've seen and how many settings I can put it to, how many trails to virtually go and all that…
My body just couldn't do it yesterday.
I knew I was out of shape, but I didn't realize I was THAT bad off.
At least I didn't push through to make it totally painful. I knew enough to listen to my body to stop, slow down, or just go to cool-down when I realized I couldn't go 10 more minutes.
That was a sign to go back and really think about when I want to exercise, and to give myself adequate prep time.
And a sign that I need to incorporate more cardio beyond the one machine I have. Gardening is good and all, but that repetitive, purposeful motion really has to be ramped up.
I wish my dogs could behave well on leashes without putting me in knots like a vertical game of Twister (I'm sure some in the waiting room at the vet take bets on whether or not I'll fall over or let go the leashes. I'm a spectacle each time.). I'd love to go walking down the road with one or both and get some basic walking exercise going. Going alone is boring, but I might have to do that anyway.
But then there's kickboxing and my DVDs. I haven't set up my media corner in my gym yet, but when I do, I'll have a good place to get to work on other things besides the elliptical. If I move things around in the living room, I've got a good place to do some "Walk Away The Pounds" to start.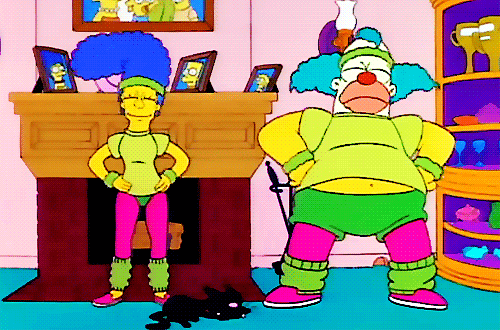 (Facepalm). Seriously, how the hell did I forget I had a walking DVD. Perfect for a tiny location or bad knees.
Otherwise, I really should go find a good heavy bag and speed-bag setup to put in my gym. I miss kickboxing and was starting to get pretty good at it. Naturally, with how out of shape I am, I couldn't get too far into it, but I could at least go through the motions and remember my stance, like putting fingers on a guitar string to make chords.
Small steps, more walking around…maybe if it's pouring down rain, I'll do a walk around my local mall with proper shoes on. It's a start, and I need to build up endurance. Most of what I've done the past few months–walking-wise–means I'm going back and forth between my desk and somebody's office, or I'm getting gardening supplies.
Sheesh, no wonder I've been so sleepy in the afternoons if this is the best I'm giving myself!
At least I have most of my weights and benches in easy reach in the gym, even if they're not totally organized. It'll be slow going moving things around to their final places before I put a heavy bag and another weight rack out there.
Slow and steady so I don't hurt myself, and I'll really need to be aware how much exercise I'm getting in general.Cardio and weight lifting coming soon… soon as I get the rest of the machine equipment out there in easy reach.