NOTE: We're nearing the end of the book–just a few more plays to go. My water heater suddenly started pouring water out of an element panel and it took a few days for the cleanup, electrical tests, and replacement to be finished. I figured I'd play catch up to get the book reviews finished, but uploading 2 or 3 reviews a day would be nicer than dumping the lot on everybody. ,Just giving you notice because I'd hoped to have all these posts done and in the queue by the end of the 6th. Best laid plans and all. Anyhoo…
I see a lot of Greek mythology coming out in this particular work, and fans of the original 1980s Clash of the Titans movie might recognize some elements (even if not exact events). There's quite a bit of interesting stuff going on here, but probably the only thing missing that we're used to in these types of stories is a prophet or soothsayer wagging a finger and giving advice no one ever listens to.
This is an often-edited and revised text, written by several different authors. Shakespeare tends to get the credit for doing one of the final revisions, at least, according to the editors of this book. That's why it's included in the works list. Otherwise, it's an often-told tale that's been rewritten dozens of times by the time Shakespeare got to it. George Wilkins is considered the initial writer, a member of Shakespeare's company. At best, Shakespeare is an editor, which may explain why the stage directions and the narrating character are so vastly different.
Admittedly, these differences make it a curious read, especially if you're reading this book cover to cover like I have. The events of the story might stretch credulity, but it's interesting nevertheless.
Pericles, Prince of Tyre begins with the off-scene narrator, John Gower, giving some crucial background that gets Pericles truly started on his journey. Pericles goes to Antioch to try for the hand of the King's daughter. He has to correctly answer a riddle to do so, and if he fails, he dies. Pericles realizes the riddle reveals an incestuous relationship between the king and his daughter, which is not widely known, and gets it wrong. It means that in 40 days his life is forfeit, but the king knows that Pericles knows the truth. Pericles knows this, too, and flees back home as the king charges an assassin to follow him.
To thwart attack, he's advised to go travelling a while until the heat has died down. In his absence, he helps a nation with supplies and learns about the death (by the gods?) of the king and his daughter of Antioch, so he can go back home. But a storm shipwrecks him and he ends up meeting the king Simonides and his daughter Thaisa, who are impressed by Pericles.
After some contests of skill, Pericles wins her hand. They head back to Tyre and along the way she gives birth but dies. There's a fierce storm and the captain explains they must rid themselves of the dead or the storm won't stop. Pericles puts Thaisa in a casket, gives the daughter Marina to a nurse, and the body is tossed overboard.
However, when Thaisa washes up on Ephesus, fishermen open the casket and find: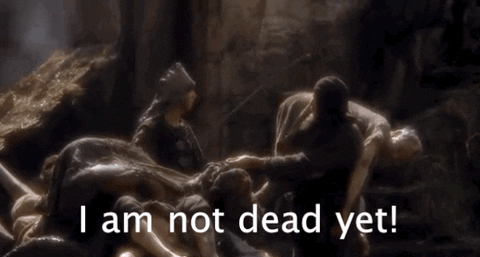 Marina is given to the nurse to be given to the king and queen in Tarsus, who he helped before, because he's convinced she won't survive the journey back to Tyre. Pericles is heartbroken over the loss of his wife and child.
This ends the first part of the play. The rest takes place years later, when events really get revved up and pushed into the realm of far-fetched coincidence, but it's still a good story. The play goes into what happens to these family members apart. In their own ways, each tries to discover more about their family and what happened in the years. It's a lot to take in, but interesting.
I don't want to give a complete synopsis, and probably gave too much of a start of one as it is, but it's a pretty long, complex play that ends up a morality tale. If you enjoy Greek mythology or something similar as far as coincidence, fate, and storytelling go, then this one's a good read. If you're not much for that, then you probably won't like it.
I'd never heard of it before, but I couldn't help all the movie scenes that cropped up in my mind as I went along, knowing I'd seen some of this stuff before. Who influenced who, I wonder…hmm…
Anyhoo, not a bad read. Dunno how much I'd enjoy it on the stage, and I wonder if anybody will reconstruct it enough to make it as close to Shakespeare's and Wilkins' vision as possible.