I'm stuck in this mental/physical limbo where I'm bursting to create while emulating Homer Simpson from the Treehouse of Horror sketch, "The Shinning," when he repeated "No TV and no beer make homer go crazy."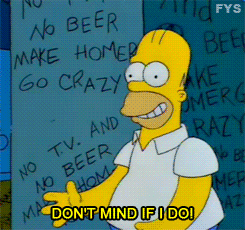 I think it's a desperate attempt to build my life. Roughly 16 months ago I had thought long and hard about wanting to play violin again. I ended up getting my acoustic guitar (which I still love, and is in storage, and because of my space constraints and crazy dogs, I can't bring it out).
So, this week, desperately trying to leave the house, I went to my "candy store" and picked out my new violin…and brought it home.
Forehead, meet table.
On the other hand, it's not hopeless or stupid in the sense that I just wasted a bunch of money on something I'm never gonna touch. I got a chance to try out and play with several, and found a really good one. What impressed me most was how I haven't touched a violin since I was in 5th grade , but somehow I remembered how to hold the bow and coax nice sounds. I don't quite remember the notes and fingerings, but the muscle memory really made me happy.
Maybe it's the memory. I think 5th grade was the last time I was really happy as a kid.
It just hit me how true that was. Things were changing and crazy, but I had the most friends and did the best in school, had lots of achievements…then junior high and growing up came in.
But I've always wanted to re-learn. And I'm glad I bought it.
And now I'm thinking hard about a drum set.
And doing research, because now I'll have an official music room when my new house gets finished.
But I feel it's impulsive because even if I hightail it over to get that drum set (with a massive price reduction, which is the only reason I'm considering getting it today)…I'd have to put it in storage.
I can't even work with it today. I barely have room to work with my Violin. Or my Clarinet.
I'm stuck in the garage back room with my dogs because it won't freaking stop raining. Though there's hope because it was 90% today and so far (fingers crossed) it hasn't done any raining.
But I'm grappling with this desire to feel something, to create. I barely get to listen to music I want and have no TV and barely get to use the internet because I don't want the dogs locked up all day so I restrict myself to an hour a pop in between work shifts.
But if I stay at home all day, in that garage and the mushy yard with nothing to do…I notice my impulsiveness goes way up, like it's the best way to wake me up.
I went to my favorite music store yesterday because my next door neighbor had a birthday and her kid didn't have sheet music for her new soprano sax (I wanted to get something). While there I got some more violin music, but contemplated getting a ukelele and/or drum set!
The ukelele packs were all sold out, and I'd rather learn more about them (can't help it, I'd love the idea of playing bluegrass on 'em). The electronic drum set I was looking at was also being examined by a family, and they ended up getting it. I'm glad, because I had time to read up on it and the reviews aren't so great. Now I've found online a set of acoustic drums that I wanna go look at in the store (which is nearly half the price), and I can ask a trillion questions about it.
I'm bursting with the desire to create, but also to furnish my house. I'm so damned tired of waiting, and also don't wanna move everything on my own…hence buying it now.
But it's time to be smart and ask a bunch of questions…and see if the box will fit in my car (that'll be the biggest deal breaker today).
Music is all that makes me happy (other than the furry weirdos in my garage…and the giant spider I bought from the Halloween store that's perched over my lawn mower).
I just wish it could speed up time and help me get crap done. My life's been on hold too long. I guess this is an attempt to plan my dreams, because I want to learn.